Sky Bacon
A colorful cake with a unique effect. Sure to stand out in any fireworks show.
Dimensions 4.7 L × 4.7 W × 6.3 H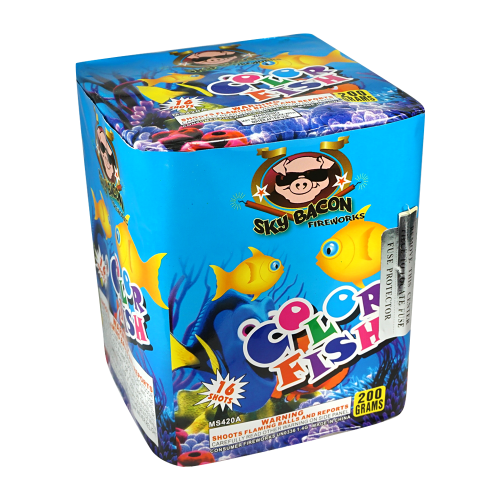 Spirit of 76
Similar Products
Customer Comments
Posted by Craig R | November 13th 2017
Great color awesome bee effect.
Posted by Carl T | April 25th 2019
Probably the best cake I got in my recent order (and the cheapest too!) The colors are extremely vivid, and the effect very unique. I've tried several flying fish and color leaves cakes, and this one by Sky Bacon was the best I've used. It's a bit louder coming out of the tubes than I would like, but that is a minor complaint for something as awesome as this cake. Even the blues (typically a difficult color to make in fireworks) are excellent! The red and green are also very bright. Fish nearly reach the ground, so make sure you have a wide open area for using this cake, far from anything flammable.
Posted by Jordan W | November 5th 2019
I love the decent sound on this cake, as well as the distance traveled by the bees. Great all around cake.
Posted by William W | September 4th 2020
Bee-autiful but short.